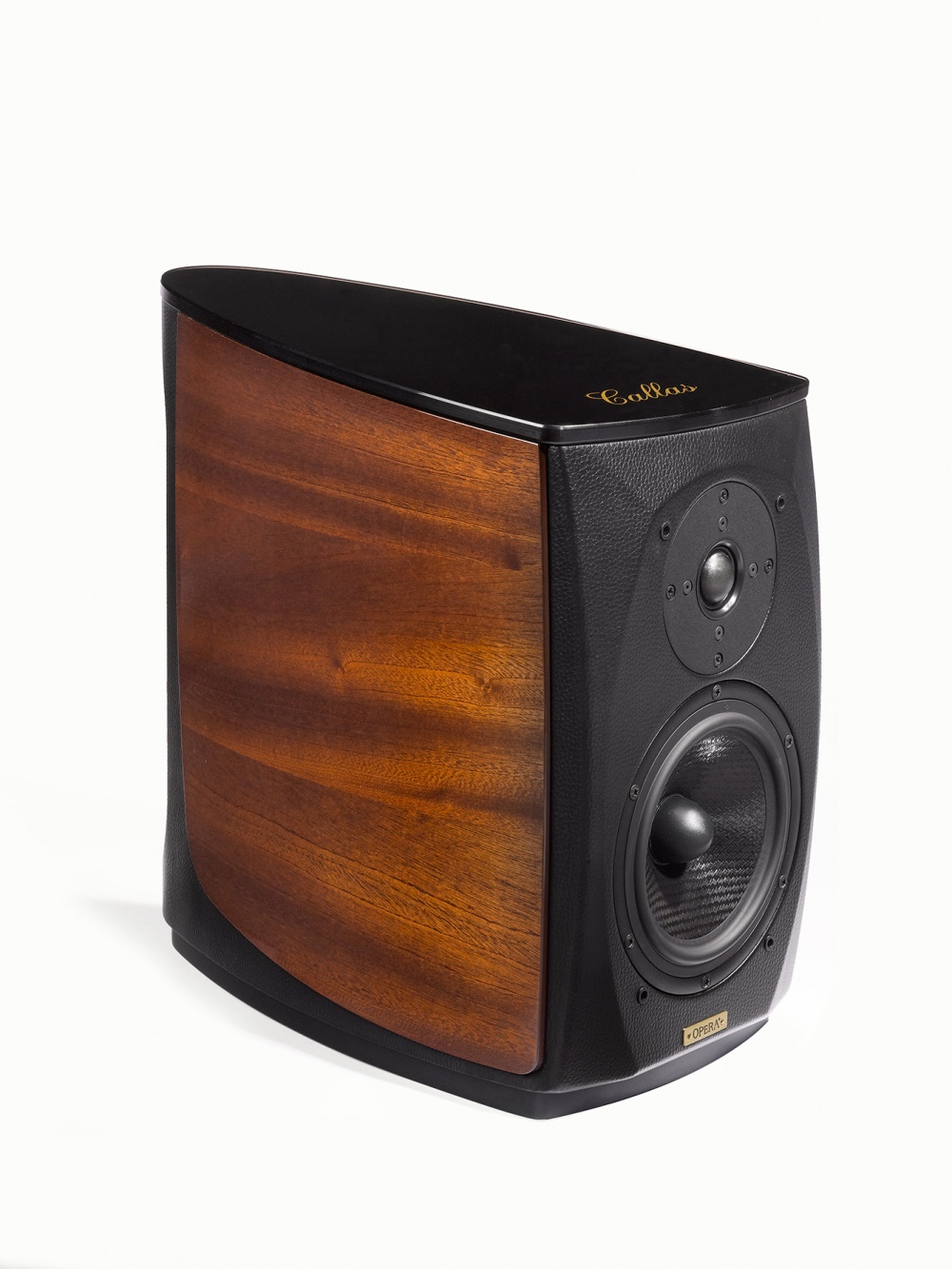 Callas
£4,020.00
In early 2014, Opera decided to re-imagine their longstanding Callas loudspeakers - and the outcome was a new flagship speaker that far surpassed anything that came before it. The design brief was to create a speaker that delivered a three-dimensional sound stage which was focused, stable and had the correct timbre, dynamic and detail; without any fatiguing elements. Through an exhaustive R&D process, the experienced design team delivered on all fronts with this compact two-way stand-mount speaker design.

The new Callas is both an object of affection and something that integrates discreetly into any environment. Made from MDF and veneered curved plywood, the cabinet is thick enough (25mm on the sides and 50mm on the front panel) to absorb resonances and shaped with a non-parallel footprint to reduce internal reflections. The use of additional internal damping - including two layers (20cm total thickness) of pyramidal polyurethane foam - in sensible quantities helps keep the cabinet non-resonant while still allowing the speaker drivers to deliver their full sound.

The Callas' impressive bass-response is delivered via the 7" long-throw woofer from SEAS, with and annealed polypropylene diaphragm. The woofer is from SEAS' flagship 'Excel' range and is reflex-loaded with a rear duct. Due to the broad range this woofer can potentially delivery (up to 5kHz), the woofer is capable of delivering a perfectly natural overlap with the tweeter at the 2kHz crossover point.

The 9700 tweeter from Scanspeak used within the Callas is one of the finest tweeters available. And not only does it sound phenomenal, but it is also incredibly reliable - offering a long life expectancy. 

The crossover employed in the Callas uses premium components, including Mundorf capacitors and MOX resistors. The 2,000Hz cross-over frequency is only possible because the 9700 tweeter can deliver such a broad frequency response and offers such a wide linear displacement. The crossover has a low-pass section of the second order for the woofer and a high-pass section of the second order for the tweeter. 

The Callas is equipped with a switch that allows you to adjust the output of the vocal range (+2 dB between 300 and 3000 Hz). This greatly increases the flexibility of the diffuser and also suits the speaker to a greater number of environmental situations .

The new Callas produces a sound stage that expands in three dimensions with an excellent impulse response and power, dynamics and extension at low frequencies typical of systems of much higher dimensions. This speaker is also suitable for "near field" listening (up to one meter to the listening point) without any loss of clarity or quality.
get in touch
got a project in mind?
we'd love to hear from you